LOOK AROUND
CONNECTICUT
Meriden, CT
Dequaine Museums and Cultural Center

Here's your opportunity to learn more about the museums and cultural centers
located in Meriden, CT ... the Silver City of the Nutmeg / Constitution state.
You may also find additional 'Net content at LookAround123.com
Return to L
K AROUND CONNECTICUT for more info.

Dequaine Museums
and Cultural Center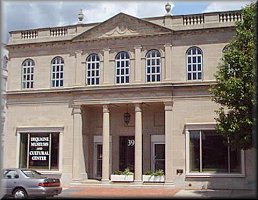 You are invited to look around this two-story
building located in downtown Meriden, Connecticut
and discover three separate museums, an art gallery,
as well as two performance halls all under one roof ...



National Shaving and Barbershop Museum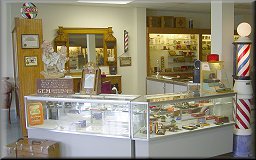 Lester Dequaine proudly displays his extensive collection of
19th and early 20th century items which include adult and
children's barber chairs and other barber furniture,
barber poles, rare and unusual shaving devices,
medical tools, occupational shaving mugs, barber bottles,
advertising posters and window or counter displays.
---
Frank Chiarenza Museum of Glass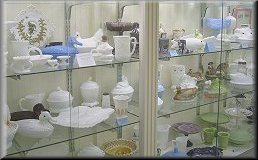 View one of the premier collections of rare and unusual mould-blown
and pressed glass in the country. Over 2,500 items, primarily of
American (including Meriden), French and English manufacturers,
are featured, including Milk Glass of various colors, in an extensive
variety of dishes with figural animal covers, figural bottles, ink wells,
candy containers, souvenir presentations, and Victorian novelties.
---
Rosa Ponselle Museum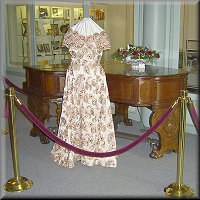 Photos, books, records, collectibles, concert posters, and
personal items detail every facet of Rosa Ponselle's life - the
Meriden, Connecticut (Hall of Fame) native (1897-1981)
and world-known operatic diva who was a star of the
Metropolitan Opera from 1918 to 1937. Even the gown she
wore at her 70th birthday celebration along with information
about her sister Carmela (also Meriden Hall of Fame) are here.
---
Carmelle Art Gallery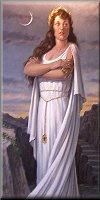 Works of regional artists, such as the above by Meriden
artist John 'Bruce' Raven who created a colorized painting
from a 1920's black and white photo of Rosa Ponselle
shown in her role in the opera 'Norma', are featured in
periodic single artist exhibits. Between major exhibits,
a small collection of paintings by Albert Swayhoover,
nationally recognized knife painting artist, is on exhibit.
---
Performance Presentations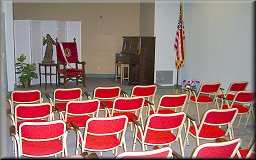 The Dequaine Cultural Center also consists of two performance
spaces ... the Greal Hall seating approximately 110, and the
Theatre / Lecture Hall (above) seating approximately 60.
Vocal and piano recitals of operatic music, a cappella
barbershop singing by male and female choruses, the
Meriden Symphony and the recital of the winners of their
Young Musicians Competition, folk singing, lectures on
music, antiques, collectibles, and a variety of
special exhibits have been featured here.
All presentations are free of charge.



Dequaine Museums and Cultural Center
Lester Dequaine, Director
39 West Main Street
Meriden, CT 06451
(203) 639-9778



directions

(take exit 7 off Interstate 691)

Open: Friday-Sunday 10AM - 3PM
Tuesdays and Wednesdays by appointment

Adults: $4.50
Seniors (60+) and Teenagers: $3.25
Children (2-12): $2.00
(fee covers entrance to all 3 museums)

Private tours may be arranged and all or parts
of the facility including a complete restaurant
kitchen are available for rental by groups.

[volunteers wanted]
---
be sure to
LOOK AROUND
for additional upcoming events


Thank you! ... for visiting L
K AROUND CONNECTICUT - you're always welcome.

** We can put your message on the Web **
please e-mail philviger@bigfoot.com
or call (203) 235-0528

[ bookmarks ] |:| [ cartoons ] |:| [ find me ] |:| [ guest book ]
[ link to us ] |:| [ Meriden, Connecticut ] |:| [ message board ]
[ mind your Ps and Qs ] |:| [ name these tunes ] |:| [ neighbors ]
[ search engines ] |:| [ surprise sites ] |:| [ swell ] |:| [ virtual highways ]

Copyright © 2003 Philip L. Viger
modified August 21, 2003
updated August 17, 2003
created August 9, 2003
http://www.lookaroundconnecticut.com/lcmeridn/lcdqnmsm.htm

080903: